Originally published in Richmond Magazine
A sleek and modern renovation gives new life to a 1980s West End home | Photos by Anna Zagorodna
by Elizabeth Cogar
January 30, 2017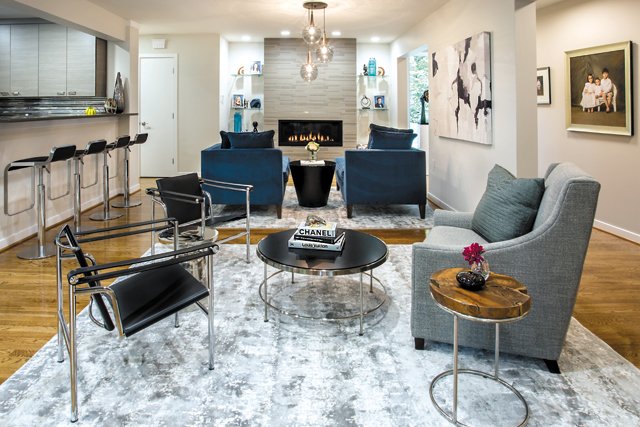 LIVING ROOM: Jessica Berliner's contemporary home follows a calm color scheme with black, white, many shades of gray and an occasional cool blue — such as the pair of CB2 chaises that face the newly installed gas fireplace in the living room.
When California native Jessica Berliner moved to Richmond in 2000, she searched for a house that felt like home. She chose her West End neighborhood for its proximity to coworkers and her workplace and because the family-friendly community has an architectural mix of traditional and contemporary homes, her personal preference. At the time, contemporary houses were less expensive in Richmond than in other parts of the country, she found. "Nobody wanted them!" she says in disbelief — and delight.
The 1980s brick-and-glass house sits on a bluff on a quiet cul-de-sac. Over the years, it served the family well with minor updates here and there, but, even though there was enough room for three children and an array of pets, the interior space never felt quite right to Berliner. "The house is a contemporary, but the way it was designed inside was not contemporary. … it was more traditional," she says. The floor plan felt awkward and inefficient. The sunken living room had potential but was never used, and she wished for a guest room to host visiting family and friends.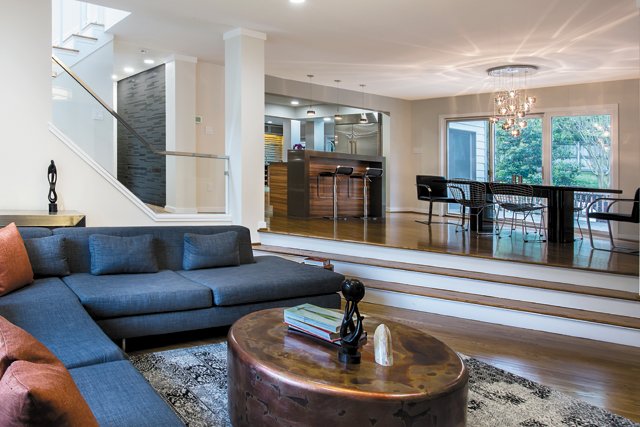 Newly single in 2015, Berliner felt the time had come to modify the house in ways that would accommodate demands of children and her hectic and varied physician's schedule. "I wanted to open it up and modernize," she explains. Kid and fitness activities occupy her time, and she wanted her living space to be easy to maintain with a streamlined aesthetic. The resulting interior that she envisioned is spectacularly sleek and modern, not your ordinary house in the 'burbs and not what one might expect of a 1980s residence.
"Our goal was to open up the floorplan." —Maks Zagorodniy

Berliner knew that transforming her home would require expertise in modern family vernacular. Looking at interiors on Houzz.com, Berliner discovered that she liked a number of spaces by Richmond-based Circle Design Studio. Once Circle Design was on board and had completed design drawings, builder Maks Zagorodniy of VMAX won the contracting bid and joined the team.
"Aside from modernizing the look for the entire main floor, Jessica wanted to make use of the sunken living room, which sat empty and unfurnished for years," Zagorodniy says. "Our goal was to open up the floor plan, making the kitchen the central 'hub,' with visual openness between all spaces but also separating the areas that would be used by adults and the children."
EXTERIOR: Until a recent renovation,the interior of this 1980s contemporary home never matched its exterior. (Photo by Elizabeth Humphreys)
Work began in the summer of 2015 and was complete a year later. It encompassed total renovations of first-floor common areas — living, dining and family rooms — plus a master suite addition that was added to the job midway through. With direction from Berliner based on photos she saw on Houzz, John and Theresa Dorlini of Circle Design Studio made selections for everything from furniture and rugs to kitchen surfaces and lighting fixtures. "I knew I'd like whatever they did," Berliner says.
Meanwhile, Zagorodniy peeled back the layers of structural and cosmetic details that no longer fit the plan — walls, fixtures and tile — with a few obstacles along the way. "The biggest challenge was uncovering structural problems in the original framing," Zagorodniy says. "We investigated the root cause of the cracks in the ceilings and sagging floors overhead, and we fixed them during the renovation. Also, the construction of modern details requires additional time to coordinate between quality craftsmen to achieve the clean-lined look."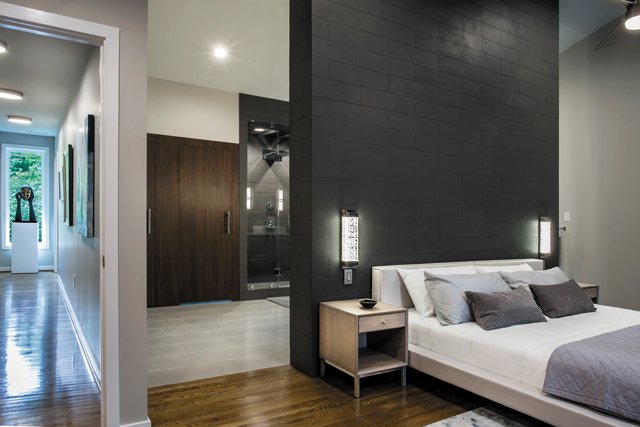 The new look is light and breezy with easy-to-maintain surfaces and furnishings. Laminate cabinets in wood grains, quartz countertops, aluminum and Thermador appliances combine for a look that's both retro and contemporary in the kitchen. Where Berliner's three children once romped, she and her and guests now enjoy a serene living space with sophisticated seating including two chaises that face the fireplace. Attaching the 1,000-square-foot master suite addition — bedroom, bathroom and personal gym — to the house required some fancy footwork, but Zagorodniy finessed it with flair. A carefully curated group of photos and artwork is the only personal décor. "I can't stand stuff," Berliner says. "No knickknacks!"
Truly a happy ending, everyone involved is pleased with the work. Berliner is a thrilled homeowner, and the Dorlinis and Zagorodniy enjoyed their partnership and have worked together twice since completing this project. "I absolutely love the way this project turned out," Zagorodniy says. "I am happy to see more modern work around the Richmond area, but it takes a mutual partnership between the builder and designer to achieve a stunning end product that pleases our customers."